January 27, 2015
Onboard New Clients the Right Way
HOW TO EFFECTIVELY ONBOARD NEW CLIENTS: CREATE A DETAILED PROCESS FOR EACH STAGE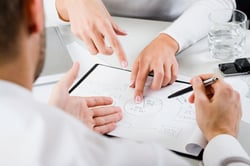 Bringing on new clients is generally an exciting time for your business, particularly as a newer company. Unfortunately, onboarding your new clients can lead to challenges if you are not properly prepared. Before you begin, you can mitigate some of the increased pressure and make a more seamless transition. To do this, create a detailed schedule and timeline for each event. This will allow you to put each piece together at the right time and start your relationship off right.  
By creating a detailed timeline and schedule for each stage, you can help your team understand their responsibilities as well as your client's. Focus on timing out the major expectations of your client. Be sure to inform them how long each stage will take. Then you should create a team responsible for implementing each stage as detailed. Communication during the onboarding process is key, not only to keep track of accountability and increase effectiveness but to make sure your client is aware of the plan.
PERFORM AN AUDIT
In addition to creating a plan, it is important to perform a full marketing audit. Gather information about current efforts and needs as well as their competitors. Know what information you will need from the clients. This could be things like passwords, login information, account registrations, etc. If you are migrating a website to a new platform, it is important to understand which content and pages will be easily transferred and what information for which may need additional support.
ENSURE A SMOOTH TRANSITION
Lastly, many clients may already have marketing agencies or internal teams. If this is the case, then it is important to make sure there is a clean break from the current agency. This may mean having your client collect information necessary for the switch, like hosting registration of their current website, social media passwords, etc. There is a chance the current agency will drag their feet or make things difficult. While most agencies are professional about these things, we have seen everything from hiding information to a complete shut down in future communication. As you can imagine, it makes onboarding far more difficult.
Onboarding should be exciting, but the process should always be refined. Learn from your mistakes and adjust accordingly. Keep your clients involved and provide more than enough time to implement each task.
For More Information Download Our Free Lead Generation Guide!